When I was in Monterey during my first week in the states I went to explore Pacific Grove by bike. I had to bike down a long hill and everything went so well, especially since I haven't biked in a year, until I was getting off the bike. Then I fell off and felt really stupid. I got away with some bruises and minor scrapes on my right shin. I was just embarrassed when passer byes asked if I was okay.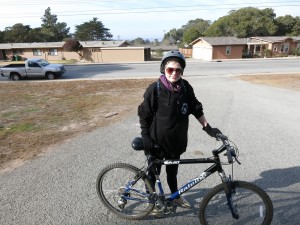 I continued my exploration by visiting Lover's Point, a beautiful beach by the bay in Pacific Grove. I sat by the cliffs surrounding it and read for a while. After that I took my bike along the shore and enjoyed the sunshine. I passed the beach with seals that I saw once before, only this time an enormous elephant seal was taking up space next to the smaller harbor seals. I explored the surroundings, a local art gallery and enjoyed reading by the beach as the tide was coming in. The sound of the waves crashing was soothing and I worshiped the sun on my face. What a beautiful day!
The day after, Johan's grandmother took me to see the local hospital up in Forrest Hill. When we arrived and I saw the façade, I couldn't help thinking that we must have come to the wrong place. The architecture of the building was exquisite, and it was not a big surprise when I heard that one of California's leading architects was responsible for the blueprints. Well inside I did a double take, trying to grasp the beautiful environment and the fountain taking up most space in the large cafeteria. Was this a hotel? A spa? No, it was a hospital built from a patient centered point of view. I could totally see how this calm atmosphere, zen-like inner garden and art covered walls could make people instantly well. Have a look and see for yourself.