During the last few days I've been chilling in Apple Valley. The high desert of California offers a calm and peaceful environment. I've been taking a break from a more hectic schedule and taken the time to sleep in. It's really beautiful here. Different, but beautiful.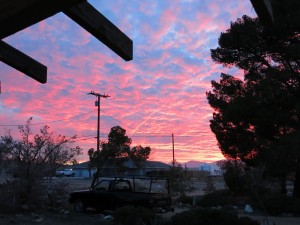 My friend Briana and I have been jamming a lot, she's a singer too and we've taken turns at playing the guitar. We've also tried a lot of different foods around here, Thai, Mexican and sushi later tonight. Yesterday, we tried some delicious caramel apples. We just had to, being in Apple Valley and all. Mine was called rocky road and was so sweet I was afraid I'd instantly get diabetes. Of course it tasted delicious, but it was a bit too heavy. Two bites were enough for me.
Today we felt a bit adventurous, and went to drive around the desert. Me being the designated driver. Bumpy roads and sandy fields offered a great place to practice driving. And I'm proud to say: I've driven an automatic and a stick shift car in the US.